Our first Centralized Community Hi-Tech Kitchen was established in Narsingi-Hyderabad in the year 2016. Inaugurated by Sri K.T. Rama Rao garu, Hon'ble Minister of IT, MA & UD, the kitchen has the capacity to feed around 40,000 meals per session using modern equipment.Over a period, this kitchen has become a fountainhead of hygienic food for needy people in Hyderabad, being served under various feeding programs. We started reaching out to needy people outside Hyderabad with the establishment of our second kitchen in Warangal, inaugurated by Sri Kadiyam Sri Hari Garu, Deputy Chief Minister of Telangana in June 2019.
Fueling our mission to serve the needy, a new hi-tech kitchen in Srikakulam- Andhra Pradesh came into reality in September 2019 with the unwavering support Aurobindo Pharma Foundation. The Srikakulam Kitchen was inaugurated by Sri Y. S. Jagan Mohan Reddy garu, Hon'ble Chief Minister of Andhra Pradesh. This 3rd kitchen of Hare Krishna Charities has a capacity to serve 25,000 meals per day. Our 4th and state of art kitchen in Mahbubnagar is all set to serve about 15000 meals per day. All our kitchens are committed to the best in class hygiene and safety standards and deployment of the latest technology to feed fresh, hot, hygienic and nutritious meals under various feeding programs. With the vision of our Founder & Acharya – Swami Srila Prabhupada that 'nobody should go hungry within ten-mile radius of our centre', Hare Krishna Charities continually strives to reach out to many more needy people. Our kitchens serve 6750kgs of rice, 5265 liters of lentils and 4500kgs of curry, every single day.
We continuously evolve and regularly refresh our menus to bring variety to the taste buds of the beneficiaries, keeping the hygiene and nutrition at the core of our menus. The food preparation processes are meticulously designed in such a way that it retains the nutritional values of food to provide a wholesome nutritional benefit to the beneficiaries.
Rice Steamers: We have the latest technology based rice steamers which are a better choice of technology for traditional Cauldrons used in bulk cooking kitchens. Each steamer has the capacity to cook 100kgs of raw rice in about 60 minutes. The steamer facilitates predefined parameters and real time monitoring of temperature, time etc. The quality and nutritional values of the rice cooked in steamers are excellent when compared to other equipment.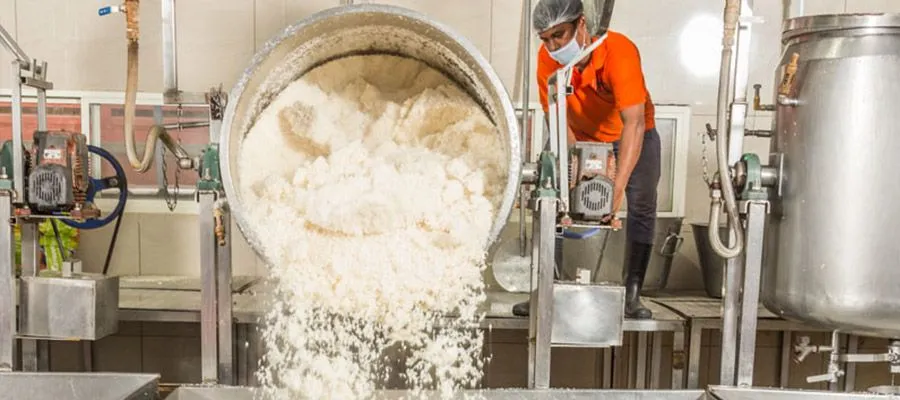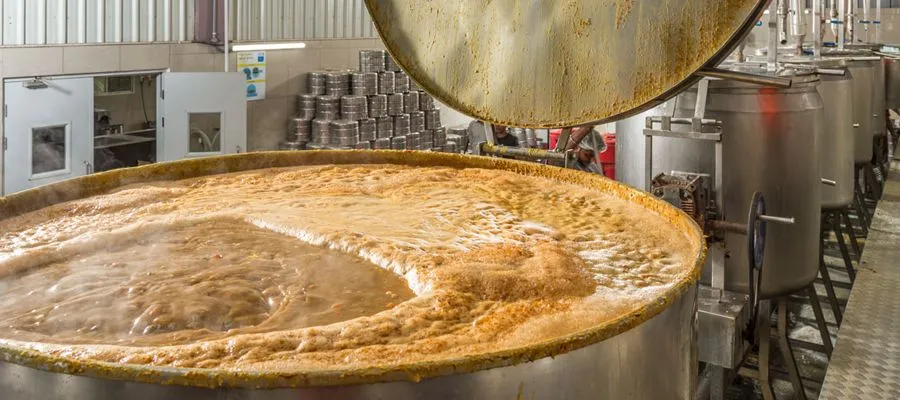 Dal or Sambar Cauldrons: We use Cauldrons to prepare Dal from 750Kgs of lentils and 1350 Kgs of vegetables in 2 hours per batch.
Curry Machines: We have 4 Curry machines with a capacity to cook 300kgs of vegetables in 90 mins and can be sufficient for 4000 people. Apart from cooking equipment we have pre-processing equipment such as vegetable Cutting machines, Grinders, Coconut Scrapers, Pulveriser etc.
The hygiene of the kitchen, equipment and food handlers is given a top priority. People are given appropriate PPEs and are trained regularly on safety and hygiene practices. Equipment is thoroughly cleaned before and after cooking. They are sterilized with hot water and with few food grade cleaning agents.
Vessels carrying food for distribution are cleaned in three stages – starting from dipping in water having soap solution and then to scrubbing and finally rinsed with fresh and clean water to remove soap residues. Raw vegetables are cleaned thrice before cooking. Firstly, they are cleaned with potable water and then transferred into a tank having chlorine water and finally again with potable water. The food distributing vehicles are cleaned and sanitized before next session. The kitchen waste is used effectively to make biogas while the water used for cooking is treated within the premises of the kitchen.